Jazz is a hallmark of cultural cities, and as the fifth-largest city in the United States, Phoenix is no exception. The Evans Churchill neighborhood proudly houses "The Nash," Phoenix's most valuable Jazz stronghold. I was lucky enough to talk to Joel Robin Goldenthal, director of Jazz in Arizona and executive director of The Nash, after hearing him perform a set for the newly instated "Hump Day Happy Hour" at The Nash. During his set, Joel played the piano alongside Delphine Cortez's vocals. I was impressed at the duo's relaxed, yet confident style and the way they interacted with each other's musicality to play their renditions of classics like "Summer Samba" and "At Last." As his set came to a close and the audience left the venue, I started to understand the respect the Phoenix jazz community had for Joel- not only as a musician but also as someone dedicated to the advancement of Jazz.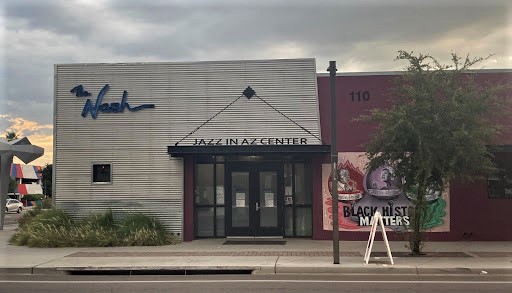 To Joel, jazz has always been a part of his life. He recalls sitting with his mother in a jazz radio station when he was young, listening to artists like Oscar Peterson and Bill Evans well past midnight. Joel started playing the piano at age seven. He learned to play by ear when he was nine, replicating the songs his mother's boyfriend would play. Later, Joel's aunt introduced him to the head of jazz at Juilliard, who gave him private piano lessons for a few years, but aside from that, he received no formal training. Instead, Joel learned to play by ear- a fact many would find incredibly impressive given his talent and musical capabilities. During his college years in North Dakota, Joel formed and performed in a 4-person ensemble. After moving to Arizona he became involved in the jazz community by regularly performing at venues.
In 2000, Joel became a member of "Jazz in Arizona," a non-profit organization dedicated to preserving the culture of jazz as well as growing the engagement of Arizona's jazz community. Shortly after joining, Joel joined the board and became president within months, eventually operating as an executive director of the board. Joel recalls at the time, Jazz in Arizona was basically a 400 person club. With Joel's leadership, the organization broke out of its shell and expanded by promoting outside the organization.
In 2012, Jazz in Arizona secured The Nash as a venue for students to play and experience Jazz and bring together the Jazz community in Arizona. The Nash was named after the revered artist Lewis Nash who grew up in South Phoenix playing the drums. Lewis went on to play with a multitude of Jazz legends and play in over 500 jazz albums with artists like Oscar Peterson, Ron Carter, Dizzy Gilespie, and more. "We named it after Lewis because he represents the musician, the education, the man we want people to be emulating," Joel explains. The Nash since has hosted artists ranging from student musicians to internationally acclaimed legends of jazz. The connections with the community range from hosting seasonal shows for universities and other musically inclined organizations like the Musical Instrument Museum (MIM) and Mesa Arts Center to cross-promoting with other Evans Churchill artists and businesses. It hosts over 300 shows a year including 50 jam sessions and has been on Downbeat Magazine's list of best jazz places in the world eight times. Not only does The Nash host countless shows, but it also offers various educational jazz ensemble programs for a range of students from new players to those with more experience. "Nobody expresses the performance with the education like we do," according to Joel.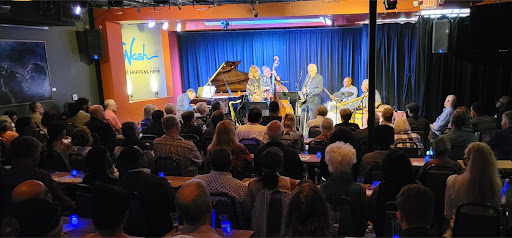 Joel is someone who is truly passionate about the self-expression and individuality expressed through jazz music. When I asked what it was that made jazz music unique, he answered, "Jazz is the most in-the-moment and extemporaneous form of art; that's what jazz improvisation is all about". To Joel, what really makes jazz is the spontaneity, which makes seeing live jazz a more genuine and personal experience. When I made the comment that no two takes were the same, Joel concurred saying, "If they are, I hate jazz". 
The Nash is Joel's legacy; it's a place where he can express his passion for jazz by advancing the art and growing the base of Phoenix's jazz community. However, in order for his legacy to survive, he needs the support and involvement of its surrounding community- especially after the devastating blows the business took during the COVID-19 pandemic.
During my brief conversation with him, Joel spoke about having a "jazz gene": a trait naturally occurring in people which causes a relentless and undying attraction to the art. The only way to cease the jazz gene's dormancy and ignite a host's passion is exposure to jazz. Joel believes only some people contain this gene and are inspired into a lifetime of fascination with jazz. If there is a jazz gene, I think we all contain it. To me, the idea of a jazz gene is as much about finding a passion in the genre, as it is about finding a passion in one's life through spontaneity and improvisation. Jazz is a facet to express life's spontaneity by encouraging and vocalizing the beauty of being in the moment through auditory art. Through their performances, educational programs, and its connections to the Phoenix Jazz community, The Nash is the perfect place for someone to discover and unlock their own personal connection to jazz. Perhaps you will discover the jazz gene inside yourself there.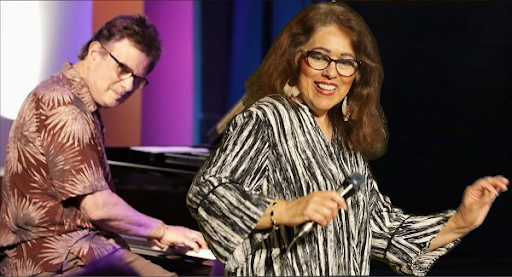 Written By Drohan Lord
Drohan Lord is a Bioscience High School Senior and intern with the Evans Churchill Community Association. You can read more of his interviews with local businesses in the ECCA community on our website.