Throughout the Evans Churchill neighborhood, you may notice vibrant murals of caricature-esque people with distorted features and elongated limbs. This style is what artist Tato Caraveo is best known for. For the past thirty years, Tato Caraveo has been a prominent figure in the Phoenix art scene, specializing in murals and fine art. I was granted the opportunity to speak with Tato about his whimsical style, the process of becoming an artist, and the unique influence of music on his visual art.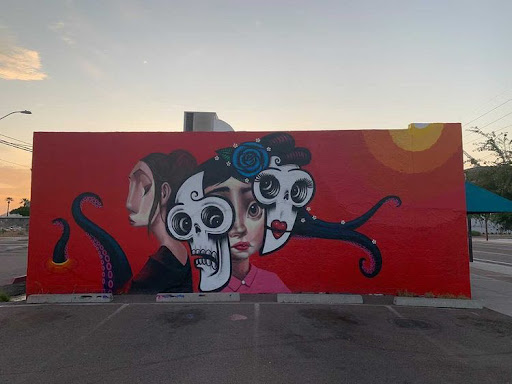 Tato's artistic career started before he was even commissioned to create art. Tato recalls spending time drawing and painting as a kid. During his teenage years, Tato got into graffiti after he started skating with friends, but eventually reached an age where he could no longer do graffiti illegally. He explains that there was really not a huge change from doing graffiti to painting murals. As a graffiti artist, he had already worked on canvas- it was only a matter of applying studio work onto murals as opposed to strictly depicting graffiti letters. Tato continued to paint and started doing more "official" art and commissioned pieces, shifting from graffiti-style murals to more fine art murals. He found that the fine-art styled murals paid the bills and helped better establish him as an artist. Regardless, Tato's background in graffiti has influenced his current work- an example of this being the signature caricatures he creates, which were inspired by an old graffiti style of his. Even as a seasoned artist, Tato maintains a strong respect for street and graffiti artists. "Everyone transitions to more than just graffiti letters", Tato recalls the young artistic talents that bloom from the opportunity to create graffiti, some even adapting their style into figurative or scenery art.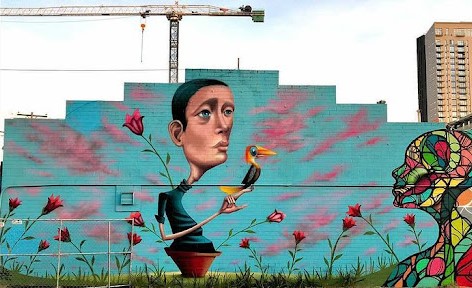 Establishing himself as an artist was an endeavor that took Tato almost two decades to achieve. With the gratitude and support of patrons like art collectors, galleries, and local businesses, Tato was able to reach a point of success and stability in his career. Even as locally acclaimed as he is now, Tato still struggles to maintain his livelihood as an artist; though to a much lesser extent. Through dedication to his talent, he has found a way to make it work. At this point in Tato's career, he is in demand for his services and constantly busy with jobs. Currently, he is working on a mural for a dispensary in Glendale. Building a reputation of showing up, committing to deadlines, and producing quality work has propelled Tato to this point in his career. As someone who has witnessed the development and change in the Phoenix art scene, Tato feels that there are more opportunities for artists now in the Evans Churchill Neighborhood. While development in the area has led to a decrease in art galleries, businesses across the area are more inviting to showcase local artists and commission their work.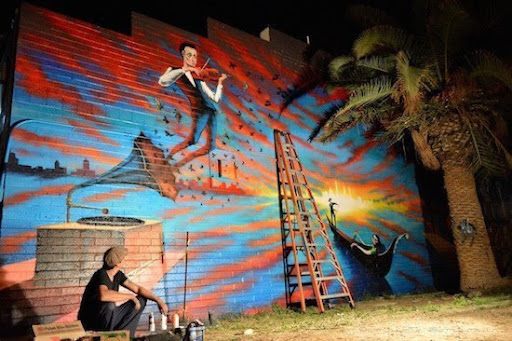 Another interesting aspect of Tato's work is his incorporation of musical passion. Though it is difficult for him to juggle his artistic career with his musical career as a bassist, Tato tries to throw a musical element into his art whenever he can. The uncertainty of band members and the more individualistic nature of art has made Tato more passionate about visual arts, as opposed to musical art. Tato still finds a way to combine his two passions and draws much inspiration from music. Some art created by Tato has even been inspired by the music he has written. Depending on the music he is listening to at the time, Tato's mood can change, and with it, his approach to art. Playing music has also become a method of getting over creative blocks when painting. "I love them both the same, but I do paint more than I play music."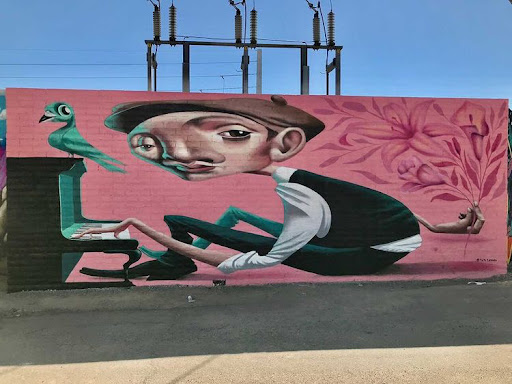 Tato has found lots of inspiration in Roosevelt Row's mural culture, and he sees it serving as inspiration for future generations of artists as well. Some of his favorite murals that he's done in the Evans Churchill Neighborhood include the mural behind the Local First building and the Piano Player behind The Churchill. To Tato, art is self-perpetuating in the sense that artists become more inspired the more they see art around them. However, his biggest inspiration seems to be the web of local artists around him, some of whom he's known since his graffiti days, who constantly push each other to improve their work. Artists like JB Snyder,El Mac, Lalo Cota, Thomas "Breeze" Marcus, and Rafael Navarro, who also have art throughout the Evans Churchill neighborhood, have built the foundation of Phoenix's mural movement. Tato and the community of artists around him have followed their passion for art and use the Evans Churchill Neighborhood as a canvas to showcase a part of themselves. They inspire me and others while adding to the unique and beautiful environment around Phoenix. The next time you pass by your local Tato mural, be sure to stop and appreciate the dedication, passion, and struggle brushed upon each brick of the wall.
How to support local artists:
The easiest way for you to support local artists like Tato is by tagging them whenever you post photos with their murals on social media. By crediting artists, you can help spread their name and showcase their work so they can create more art for you to enjoy.
Written By Drohan Lord
Drohan Lord is a Bioscience High School Senior and intern with the Evans Churchill Community Association. You can read more of his interviews with local businesses in the ECCA community on our website.