At the age of 24, Lauren Lee wasn't quite sure what to do next with her career as an artist. After the countless years she dedicated to learning and refining her visual arts skills she hit a brick wall. She didn't know what to paint. Though Lauren could paint anything, she didn't feel inspired and couldn't decide what she wanted to express. Lauren decided to present this issue to her spiritual teacher, who told her to simply ask God to reveal it in a dream. So, Lauren prayed that it would be revealed. What she saw has since defined her artistic purpose.
Lee has been a professional artist in Phoenix for the last ten years and spent the prior five teaching art at the New school for the Arts and Academics in Tempe. Lauren has been immersed in art all her life, taking every opportunity in high school and college to learn a new art subject. This month, I had the opportunity to ask Lauren about her career and how her life experiences have influenced her art.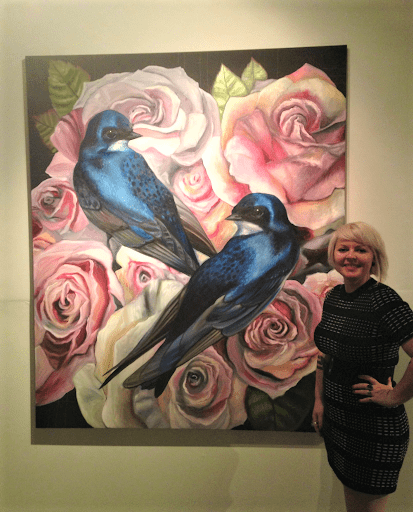 Using the heroic scale of murals to depict hyper-natural imagery, Lauren is able to completely alter an urban environment with her art. Though many people only see Lauren's botanical subject as apolitical, she argues that the largest societal problems we face are rooted in the environment. "What we exalt through the art becomes a part of the conversation", she explains; and Lauren's mission is to bring nature back into the conversation. In an urban area where every environmental aspect is implemented by humans, Lauren seeks to balance human symbology with imagery of flowers, birds, and insects; all things we consider mundane but are unmistakably remarkable aspects of our world. Lauren also aims to bring awareness to gendered spaces by introducing feminine colors and symbols on the large scale of murals in public spaces. Lauren creates her art with the intent of bringing balance to her audience along with the hope that humans will do the right thing concerning the environment.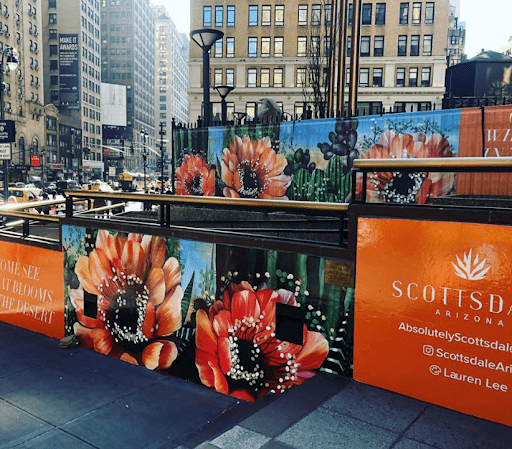 Something which also manifests itself in Lauren's work is her involvement with Kundalini yoga, which she has practiced for years and also trained in. Kundalini yoga, which is a devotional, mantra-based practice of meditation and movement, has become a large part of Lauren's worldview and is reflected in arguably all of Lauren's art. After a period of having trouble finding inspiration, Lauren sought a spiritual solution to her dilemma- asking God to reveal what she should paint in a dream. In this dream where Lauren found herself walking alongside an invisible figure, her question was answered. When presenting her predicament to the invisible being, it gave the answer, "Feminine Images of God" along with a vision of The Buddha surrounded by flowers. This vision gave Lauren her artistic purpose and served as the subject of her first oil painting. Since understanding this purpose, Lauren has devoted her artistic capability to only depict things created by nature; the same devotion which gives her the effort to paint murals while overcoming a fear of heights. "If God brought me to it, God can pull me through it".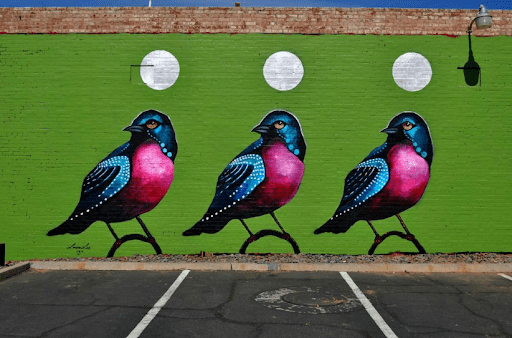 Through her dedication to the craft of visual art, Lauren has taken the opportunity to showcase her identity through a variety of projects. She has left her mark on the Roosevelt Row Arts District and the Evans Churchill Neighborhood, forging symbols that will forever remain a part of our neighborhood's culture and contributing her artistic perspective and abilities to beautify our neighborhood. When Lauren first experienced the art scene in the Evans Churchill neighborhood over ten years ago, she saw an opportunity to create something unique on Roosevelt. Her mural, "Three Birds," depicted three birds standing on branches lined up with halos above their heads. During a period where public art seemed to only include graffiti and street art, Lauren decided to create something more along the lines of fine art. Her mural instantly caught on, as people stopped to take pictures of the birds while Lauren was still painting. Lauren had never seen anything like it. When the building was demolished, Lauren made the "Three Birds in Flight" on the apartments which took its place. The three laterally stacked flying birds have since become an icon of Roosevelt and one of its most visibly accessible artworks. Lauren's new mural, "Three Birds in Bloom" shows the original birds in their third iteration and is located at the newly constructed substation on Roosevelt and 7th street. She jumped at the opportunity to complete the mural when she heard that the murals were about reflecting the history and diversity of Roosevelt Row. While similar to her original mural, the Three Birds in Bloom have pink halos and are surrounded by cacti and desert botanicals, a combination of elements from her past and present work. She is excited and honored to work on the substation alongside a diverse panel of other talented artists.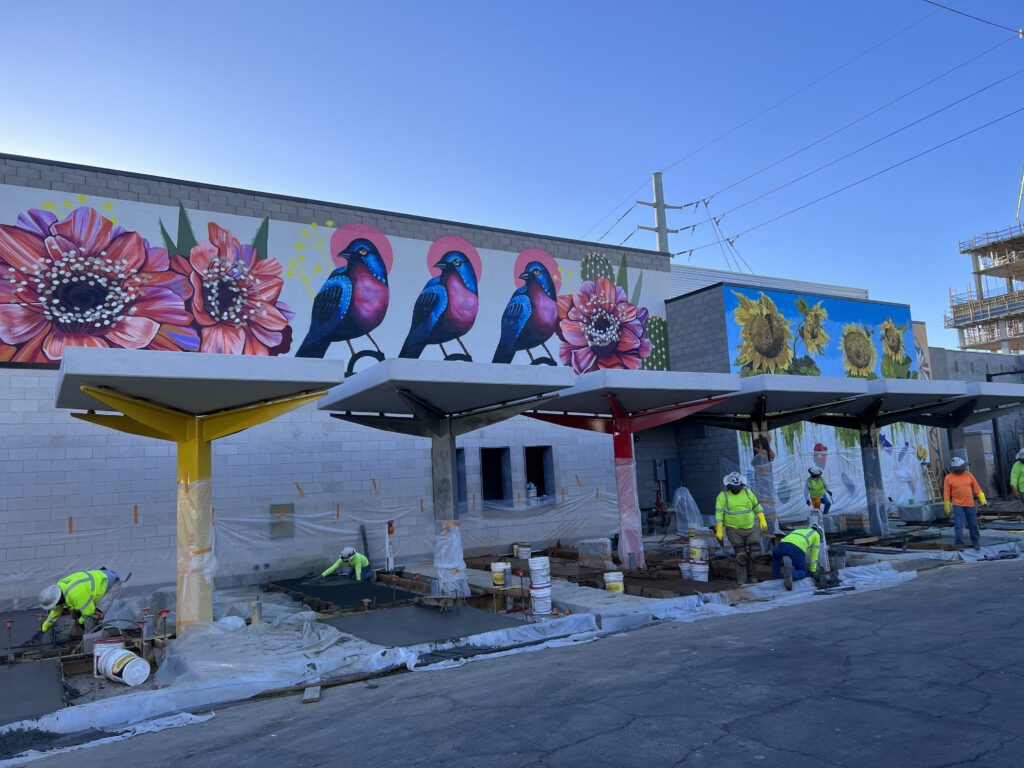 There is an incredible devotion to art, to change, and to the earth; which gives her the power to keep creating such amazing works and transforming conventional spaces to better represent the global ecosystem we all live in. There is more to Lauren's art than meets the eye, just as there is more to Lauren Lee herself than being just a painter. 
Written By Drohan Lord
Drohan Lord is a Bioscience High School Senior and intern with the Evans Churchill Community Association. You can read more of his interviews with local businesses in the ECCA community on our website.