To loyal customers and passers-by alike, SRCHR seems to exist in a void of confusion. A beach shop in the middle of Phoenix? The idea may seem strange, but through owners TJ and Beckys' artistic vision and incredible passion for beach culture, SRCHR strides to become a staple of the Evans Churchill Neighborhood. Upon entering their So-Cal-inspired store, the versatility, imagination, and entrepreneurship which fueled this project is clear. Considering the challenges and criticism they have faced during their first year, it seems that SRCHR's success will only continue to thrive as they grow their following day by day. This month, I talked to partners TJ and Becky about starting SRCHR, creating their brand, and collaborating with our community.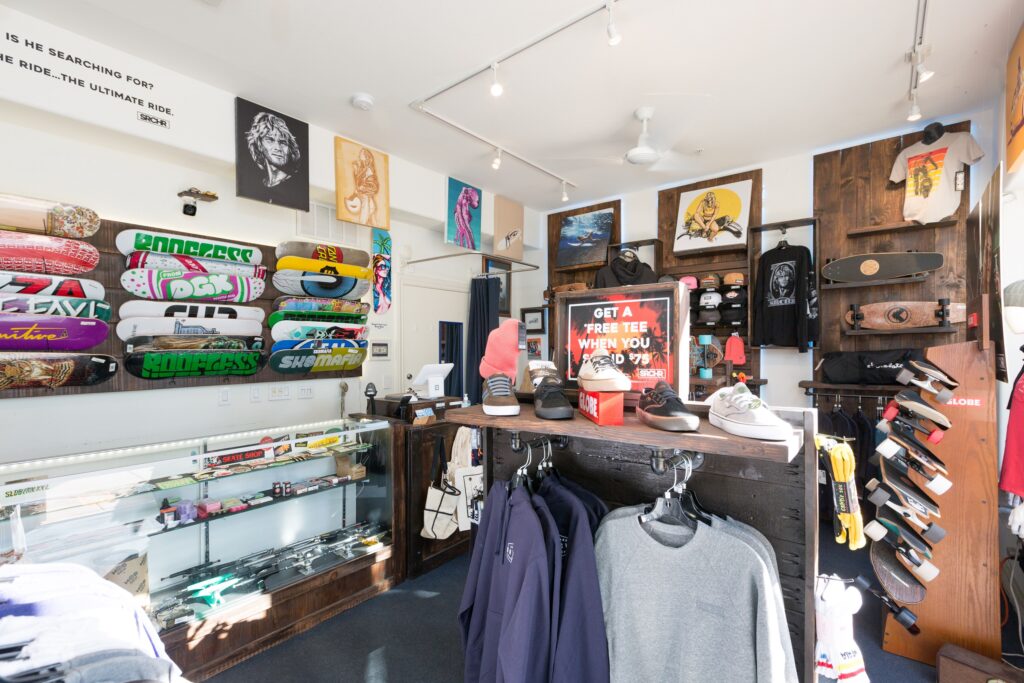 SRCHR initially opened as TJ and Becky's art gallery after the partners moved into the Evans Churchill on a whim. The two had met through the screen printing industry, with Becky coming from a family who owned a screenprinting shop and TJ working in the field for over 20 years at various shops, including his own: Timmy T's Print Shop. When the two moved into the condos behind the shop's current location, they didn't have a vision- only the desire to be a part of the arts district and participate in events like First and Third Fridays. The couple explains that the owner of the store, who lived across from them, always saw them doing art and offered the space to showcase and sell their art. "SRCHR represents our desire to always be looking for the next adventure," TJ explains. The true adventure of SRCHR came in light of the COVID-19 pandemic when TJ and Becky transformed SRCHR the art gallery into what it is today.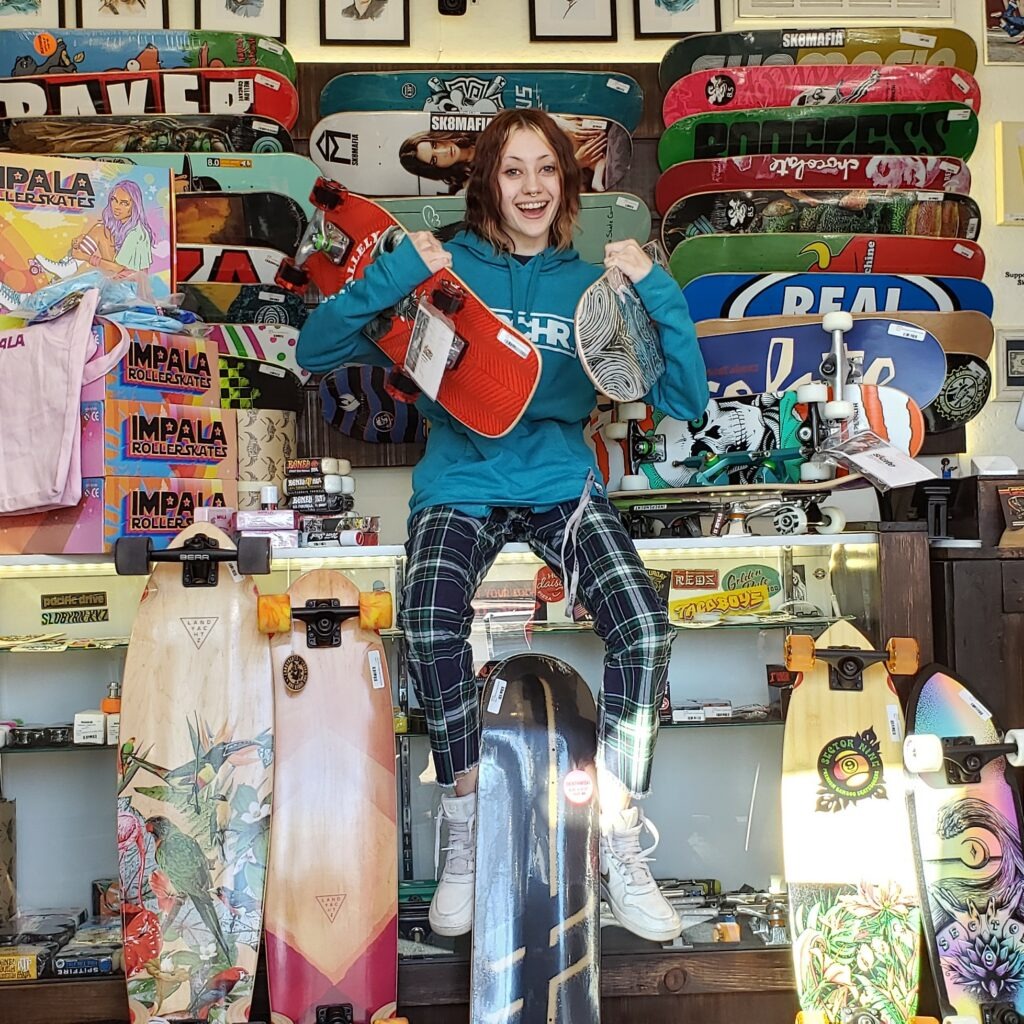 To TJ, the potential for SRCHR's brand was clear from the beginning; with his and Becky's experience with screen printing, the transition seemed simple enough. Starting in the winter of 2020, the two started designing the store, building displays by hand, and gathering products to sell, all while both having full-time jobs. Tirelessly dedicating any free time to the store, they finally opened in February of 2021. Since opening on a sliver of a budget, the couple has faced stock shortages, the uncertainty of their products even selling, and a string of break-ins which made them question keeping the store. But despite the universe's tests against TJ and Becky, they have successfully kept their business alive and even gained an impressive following for the SRCHR brand. TJ and Becky are seeing and hearing about SRCHR "in the wild" more often from their neighbors in Evans Churchill, to passers-by at a Milwaukee airport. TJ constantly creates new limited-print designs for t-shirts, caps, hoodies, and more, keeping a fresh catalog for first-time buyers and loyal customers. "We have done nothing but make rad s***"t," TJ says, "and it keeps people coming back." However, the catalog of SRCHR does not solely focus on clothing. SRCHR mimics the robust array of items found at a typical southern California Beach shop, with longboards, skateboards, roller skates, swimwear, handmade jewelry, and more. TJ claims that if they had more space (something they are currently working towards), he would even sell surfing and paddleboard equipment.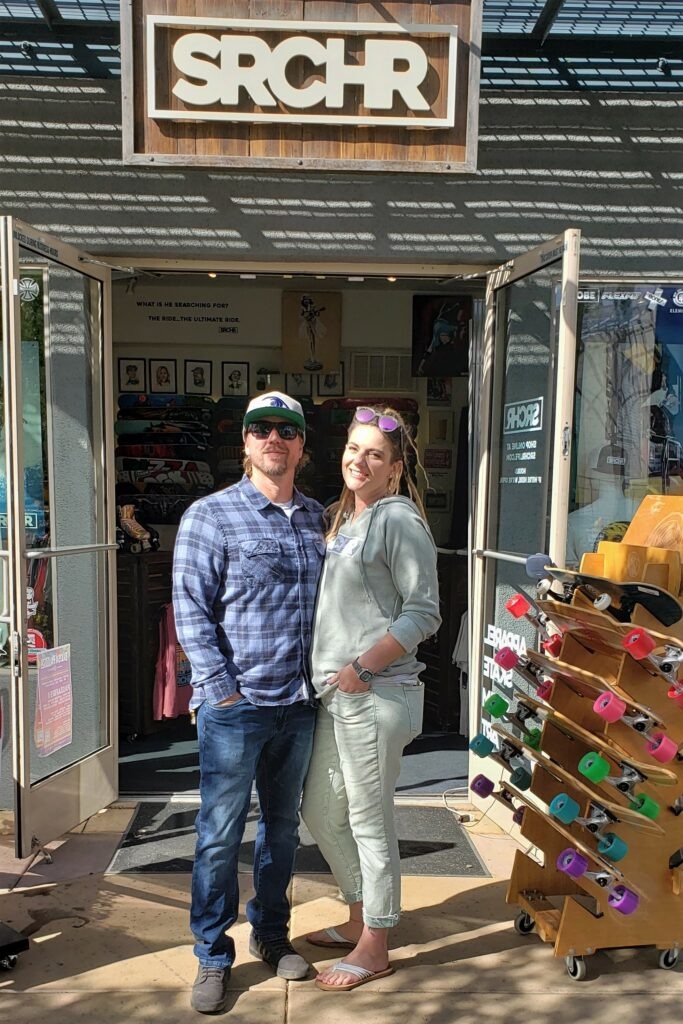 At the end of the day, the mission of SRCHR goes back to the art and TJ and Becky's hope to build community. The success of SRCHR is a dream come true for TJ, who, as someone who has always screen printed for others, finally gets to grow his own creative vision and make something meaningful to him and his partner. To TJ and Becky, the goal of SRCHR was never to gain profit or a huge following. The point of the shop is to sustain them as they continue what they love to do, creating art and interacting with the people around them. In just their first year of being open, they have collaborated with our community, grown their brand, and secured projects, including a portrait made for Tony Hawk- which TJ was commissioned to paint by Grad Suenos Hotel in Mexico after hearing the skating legend would stay at their resort for the winter. Their business is still young, and the fruits of their labor are only starting to show. TJ and Becky's story of SRCHR highlights how with passion, positive vibes, and love for the community, dreams are bound to come to fruition. The best is still yet to come for SRCHR.
SRCHR plans to collaborate with local artists to design skate decks and showcase their business at the upcoming Bud'sapalooza hosted by Bud's Glass Joint on 5th St. and Roosevelt St.
Written By Drohan Lord
Drohan Lord is a Bioscience High School Senior and intern with the Evans Churchill Community Association. You can read more of his interviews with local businesses in the ECCA community on our website.