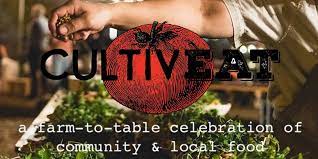 About this event
Growhouse Urban Agriculture Center (GUAC) is proud to invite you to the 6th Annual CultivEAT community dinner presented by the Phoenix Biomedical Campus! 2021 marks a new Growhouse initiative to support existing and startup community projects who share the mission of fostering a strong local food system in Phoenix. We are excited to partner with local startup Phoenix Food Co-op as well as the innovative Culinary Medicine program at the University of Arizona College of Medicine. (Read more about these programs below.)
Here's what to expect on your dinner plate this year: culinary curator Wayne Coats is leading a team of local chefs and Dr. Farshad Fani Marvasti (aka Dr. Shad) have teamed up to hand-pick the menu this year. It will not only be a delicious four-course meal but this year's dining experience will also promote a healthy immune system.
Join us on the Phoenix Biomedical Campus for:
6pm Cocktail hour & live music,
7pm Dinner & learn about food and
9:30pm Leave with a full tummy, a mind full of unexpected & practical information about healthy eating, and in full spirits after connecting with some of the most interesting movers & shakers in downtown Phoenix.
Location: 850 PBC building, Phoenix Biomedical Campus, Phoenix, Arizona 85004
BUY TICKETS HERE!